Back in 2017 when Kyler was just three years old, he started having low grade fevers and complained of a bad pain in his leg. His pediatrician thought maybe it was juvenile rheumatoid arthritis. Then two days before Thanksgiving, a bone marrow biopsy showed Kyler had cancer – leukemia. Three days later, chemo started. Gives a whole new meaning to Black Friday, right?
And the chemo has not stopped since then. Now six years old, Kyler has had 26 spinal chemo treatments, and…well frankly, they've lost track of how many rounds of chemo he's had through the port in his chest. AND on top of that, he takes chemo pills every day. As you might imagine, none of this has been easy on Kyler. His mom says he's felt scared and angry a lot, plus he battles anxiety and has trouble sleeping. Understandable, to say the least.
If ever a kid needed a Team Summer friend, it was Kyler!
Usually Team Summer kids nominate other kids and give the gift.  But anyone can nominate a kid with cancer to become a Team Summer kid, and in this case, it was Kyler's mom! Go Mom!
But who would give the gift? When we reached out to some of our Team Summer kids, not one but THREE of them raised their hands to help. Three kids give one gift? Why not?!

Believe me, these three understand what Kyler is going through. Lex and Trevor have battled leukemia just like Kyler, and Ethan has fought lymphoma. They all know how much having support from other kids meant to them when they got their Team Summer gifts.
After a lot of planning and scheming, it was finally time for the Zoom call. Clearly, Kyler did not know what to think!
After the introductions, the three boys took turns reading the Team Summer Welcome Letter. Then they told Kyler to go look around the side of his house where we had his gift hidden. When Kyler saw it, he started jumping up and down so fast, the video on the Zoom call turned into a big blur!!

The gift was something Kyler has wanted forever – a big, red four-wheeler!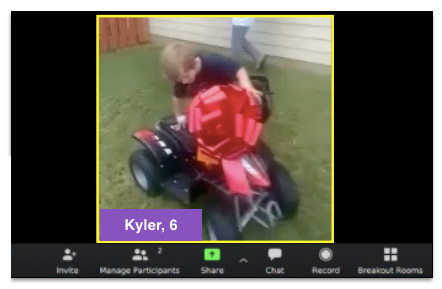 It's hard to know who was more excited, Kyler or the three boys! You'd think THEY were the ones getting a gift!

This is the kind of moment all of us at Team Summer live for! And then, about five seconds later, Kyler put on his helmet and took off like a shot! This kid knew EXACTLY what to do!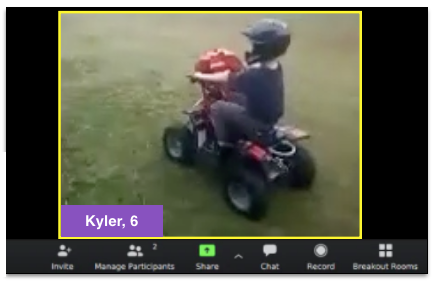 And this is the BEST part: Later, Kyler told his mom, "Those Chemo Boys are so cool. They are just like me!" HAHAHA! We LOVE that! The Chemo Boys! And they ARE all in the same club. Not the kind anyone would want to join, but just the kind to be in if you need one!
A footnote to this story: Kyler's mom says he's obsessed with his new wheels, riding every chance he gets. In fact, one morning when it was time to go to school, Kyler's mom could not find him anywhere in the house. With growing concern, she started looking outside. When she finally spotted him, she could only laugh! He was down in the cul-de-sac riding his four-wheeler round and round!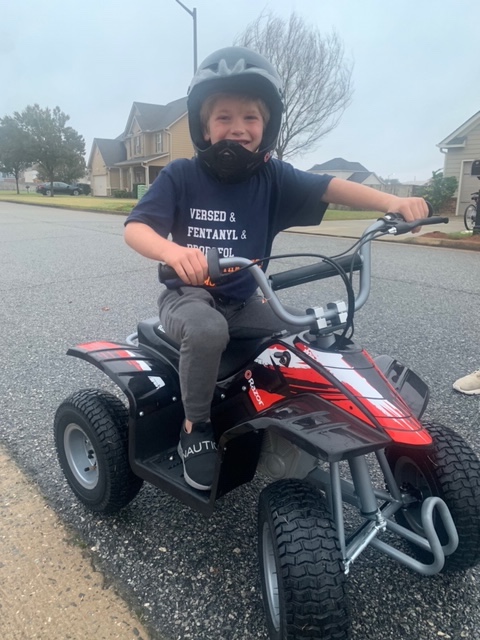 Way to go, Chemo Boys!! You are what Team Summer is all about and we love you!

If you have donated to Team Summer, you should be proud! Gifts like this one are because of YOU! And we need your generosity now more than ever, as the pandemic has limited our ability to raise money. Until the end of the year, a group of wonderful Team Summer supporters will be matching your donations…up to $20,000. If you donate $100, Team Summer will get $200. Please, help us make this match and keep Team Summer going strong!
While Team Summer waits for the end of the pandemic and it's safe for kids with cancer to be together again, we're doing all of our gifts virtually like this one!