Dear Friends and Family,
Eight years ago today we lost Summer. Oh, how I miss her! Even the briefest flash of memory – her voice, her smile – can still bring me to my knees. Yet, I can't tell you what a comfort it is to know her spirit lives on through our Team Summer kids.Today is an important day for Team Summer, as it's the day we launch a major fundraiser for Team Summer. This event has always been important to the financial well-being of Team Summer. But this year, in the middle of a pandemic that has limited our ability to raise money, it's critical.
A group of amazing Team Summer supporters – listed at the bottom of this email! – have put together a Challenge Fund that will match your tax-deductible* contributions – dollar for dollar – up to $20,000! If you donate $50, Team Summer will get $100; if you donate $100, Team Summer will get $200.
Yes, I know this goal is a big reach, but I'm full of hope that you all will find a way to help us reach it!
What makes Team Summer unique is that all our gift-giving is from one kid with cancer to another…as they help each other through some of the darkest days of their lives. Once kids get a gift, they are encouraged to give a gift to another kid with cancer. Then that kid finds a kid to help, and so on.Here's just one of the 
many
 chains of giving – one that started with Summer herself back in 2012! Check this out: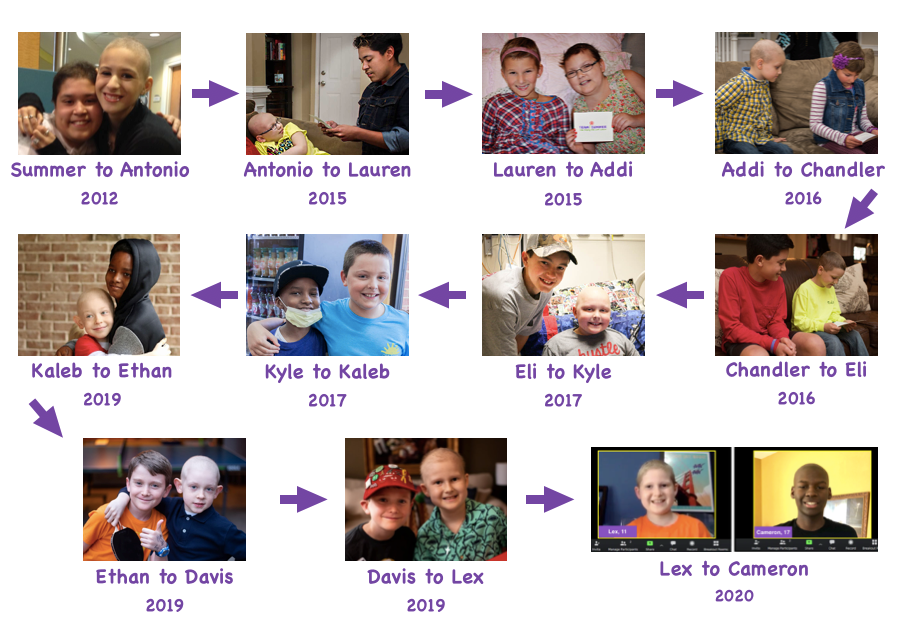 We are so proud of our kids and all the good they are doing! Can you help us help them? All Team Summer gifts are funded through donations from generous people like you! And the best part is that, with our Annual Matching Challenge, your donation of $50, $100, $250, $1,000 or more, will be doubled!
Or send a check to:
Team Summer
P.O. Box 9013
Atlanta, GA 31106
On behalf of my beautiful daughter whose vision, compassion, and empathy started all this, thank you in advance for accepting this challenge!
Much love,
Lynne Dale
President
Team Summer
This is the remarkable group of Team Summer supporters whose generosity created our matching pool. I am grateful beyond words!
Gold Level Donors
Chad and Cathi Morriss 
Corporate Donors
HawkPartners
Specialty Center for Periodontics and Dental Implants
Individual Donors
Jennifer Barnes
Holly and George Batchelor
Liz and Frank Blake
Tracy Carusi
Steve Chaddick
Jan and Avery DeLong
Melissa Demetrops
Emily Ellison and Chuck Perry
Kristen Fowks and Tony Barbagallo
Coart Johnson
Daniel Lee
Tom Marnell
Jeri Moran and Shaun Rawls
Nancy Neufer
Jeff and Betsy Sherry
David Smith
Drew Wiley
*Team Summer is a 501(c)(3) nonprofit organization. All contributions are tax deductible to the full extent of the law.