For Amanda, life was pretty normal until last year. You know, the usual – the fun of being a junior in high school, hanging out with her friends. So normal you don't even know it's normal. Then the pain started in her knee. And it just got worse. An MRI told the story – Amanda had osteosarcoma – bone cancer.
When chemo started, Amanda wanted to know what every 11th-grade girl would want to know: "Will I lose my hair?" Unfortunately, the answer was yes. But that was just the beginning. The diagnosis also meant biopsies, surgeries, and, worst of all, no more carefree times with friends. Don't let the smile below fool you. Amanda felt sick and tired all the time. Life had turned on its head.
Turns out one of Amanda's high school teachers is a big Team Summer supporter AND was one of Summer's teachers, too! How cool is that?? Plus, Team Summer kid Ariana went to that same high school. SO, we all set about to cheer up Amanda with a big Team Summer surprise: tickets to see Hamilton!! Awesome, right??!!
Not exactly. Before Ariana had a chance to surprise Amanda with the tickets, the pandemic broke out and the performance was cancelled. Ugh. Time for a new plan.
We found out that Amanda had been wanting a particular ring – a silver one designed by David Yurman with a black stone surrounded by diamonds.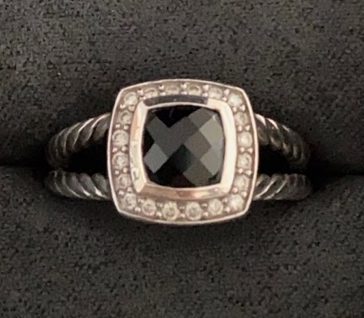 WOW!! Gorgeous! Amanda never thought she would actually get it. But thanks to our wonderful donors, Team Summer was IN! We got the ring secretly shipped to Amanda's house, and then had her join a Zoom call. When she saw Ariana on the computer screen, she knew something was up, but she didn't know what.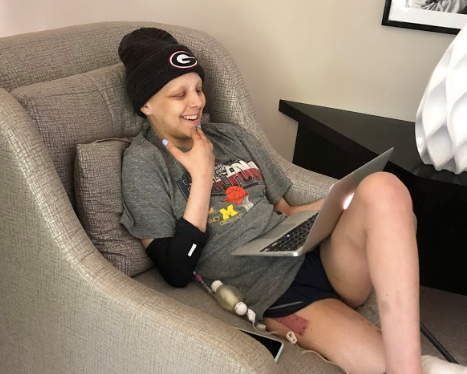 After Ariana welcomed Amanda to Team Summer, it was time for the big surprise! Look at Amanda's face the moment she spotted the David Yurman bag!
Can you tell she likes it?!! There is nothing like the look on a girl's face when she has a new piece of jewelry, right?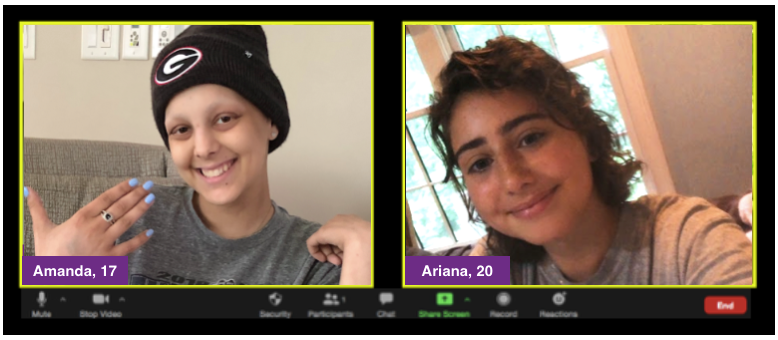 Thank you, Ariana, for bringing this big smile to Amanda's face! We hear she has not stopped taking pictures of her new ring since she got it!
And here's an exciting update: Amanda recently had her last chemo treatment!! Her family and friends celebrated with a drive-by congratulations! Amanda, we are so excited you are now part of Team Summer!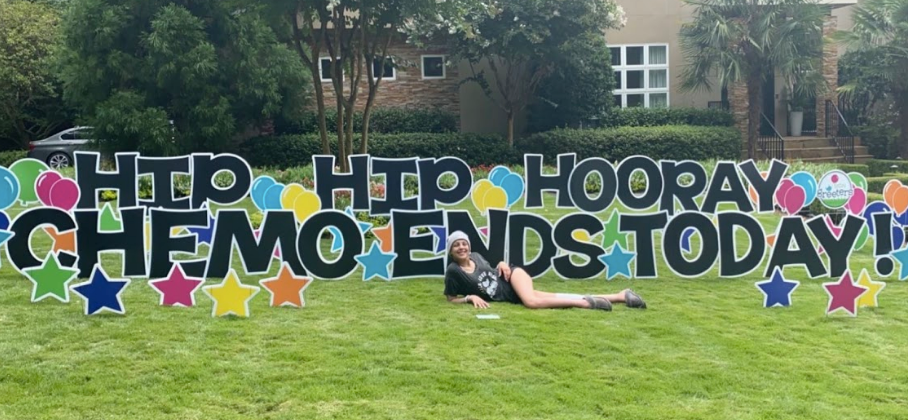 Can you make a donation to Team Summer? All our gifts are funded by people like you!
While Team Summer waits for the end of the pandemic and it's safe for kids with cancer to be together again, we're doing all of our gifts virtually like this one!