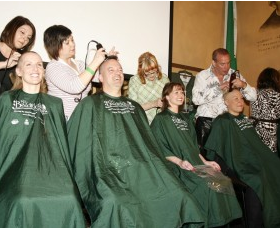 The St. Baldrick's Foundation is a volunteer-driven charity committed to funding the most promising research to find cures for childhood cancers and give survivors long and healthy lives.  Each year, they hold a fundraising event where friends and family shave their heads to raise money and show their support of cancer patients.  This ye
ar, Ned Crystal, a work colleague of Summer's mom, is shaving his head in Summer's honor while also raising money for the St. Baldrick's Foundation.  Here is what he has to say:
"I've answered the call!  I'm having my head shaved in honor of Summer Dale.  She is an amazing teenager with a very aggressive and rare form of sarcoma (of which I am a 2 time survivor myself).  I hope by raising funds with your support we can provide a bit of happiness for this family in these trying times.  Your donation will provide 2 gifts (1) money to fund much needed childhood cancer research and (2) showing Summer that people she doesn't even know are sending love and prayers her way. Help me help her!"
Please support me with a donation to the St. Baldrick's Foundation. This volunteer-driven charity funds more in childhood cancer research grants than any organization.  For more information about Ned and to make a pledge to him click here.
The St. Baldrick's event is this Saturday, March 10th at Meehans Sandy Springs from 12pm to 2pm.