Eleven-year-old Alyssa is one of those kids who just sparkles! She has had a positive attitude and big heart for as long as her family can remember. And she was always really healthy…until last September when she started having some weird symptoms…like a backache and nausea. Doctors thought it was just a bad virus. But by mid-October, the left side of her face started to droop and her left leg dragged, and it became clear something was really wrong. An MRI of her brain showed the problem – a tumor. It was cancer.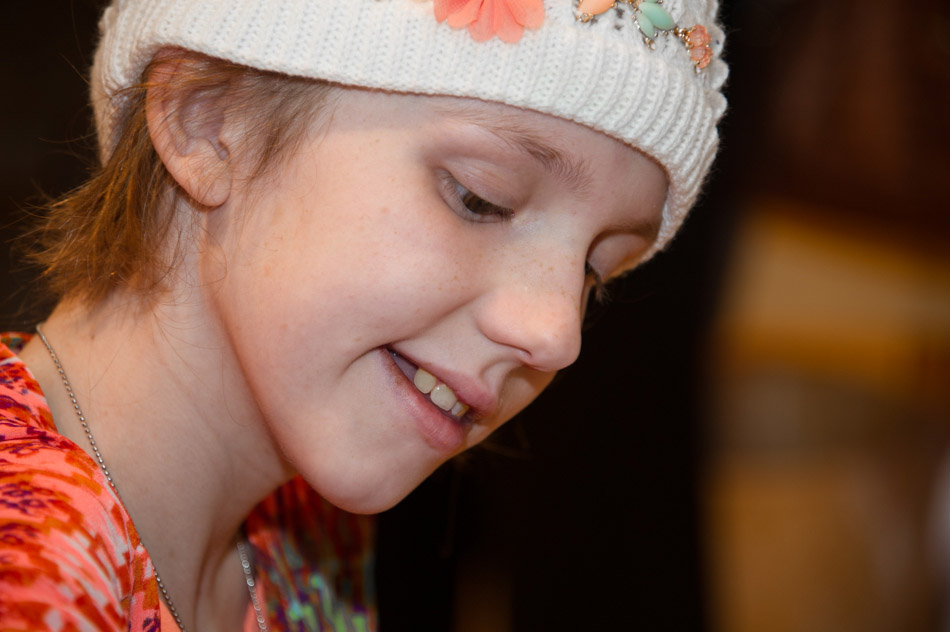 Alyssa started treatment right away. Lots of rounds of chemotherapy and all the physical challenges that come with it. Her mother reached out to Team Summer kid Kayla's mom for advice, since Kayla had also battled a brain tumor. That's how Kayla met Alyssa. And Kayla knew right away that she wanted to make Alyssa a Team Summer kid!
She found out that Alyssa is the kind of person who doesn't really want things. She'd rather just be hanging out with her friends. And Kayla learned that Alyssa loves the Build-A-Bear store, a place where you get to make your own stuffed bear. So Kayla planned a surprise party for her there!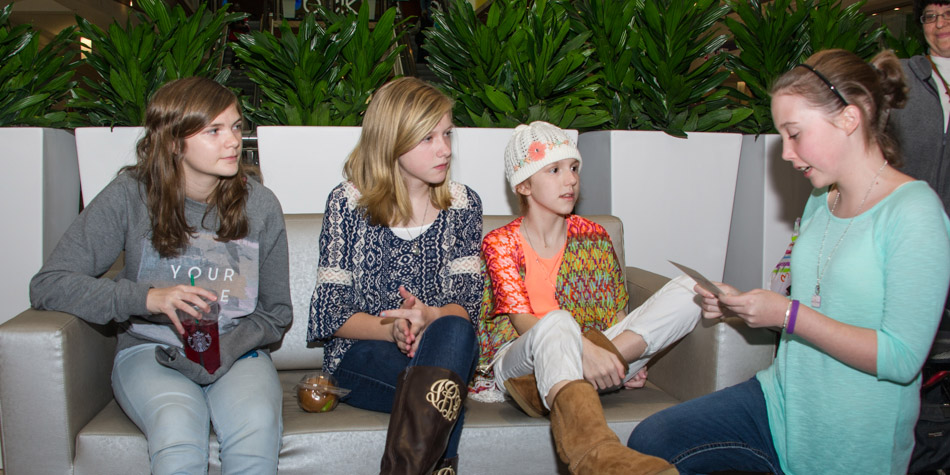 Alyssa thought she was just headed to the mall to hang out with her two best friends – Hannah on the left and Ivey in the middle. But there was Kayla welcoming her to Team Summer and telling her about her gift! She and her friends were going to get to make their very own bears!
Now if you have never built a bear before, there's a whole process to it. First, you get to pick out the bear  – or other animal – that you want to make. Alyssa chose a light brown bear with big blue eyes. Really, it was a bear pillow that she wanted to lean back on in her wheelchair!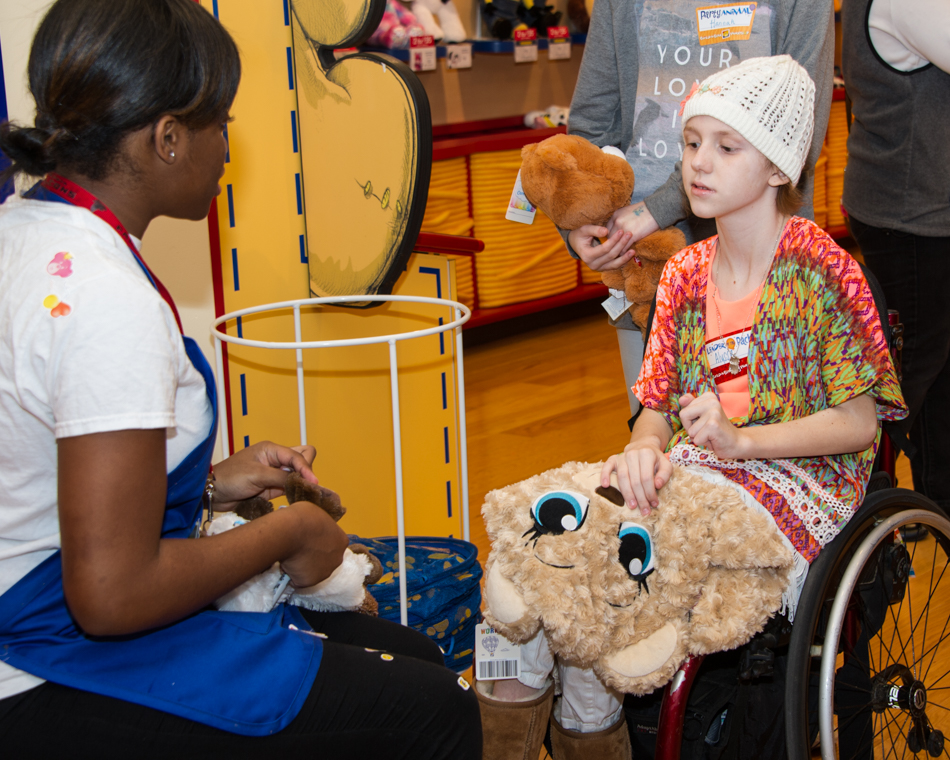 Now every bear has to have a heart. Alyssa picked one out, kissed it, made a wish, and put it inside her bear. We don't know what her wish was, but we can take a good guess!

Next, it was time to stuff! That's when a bear really becomes a bear.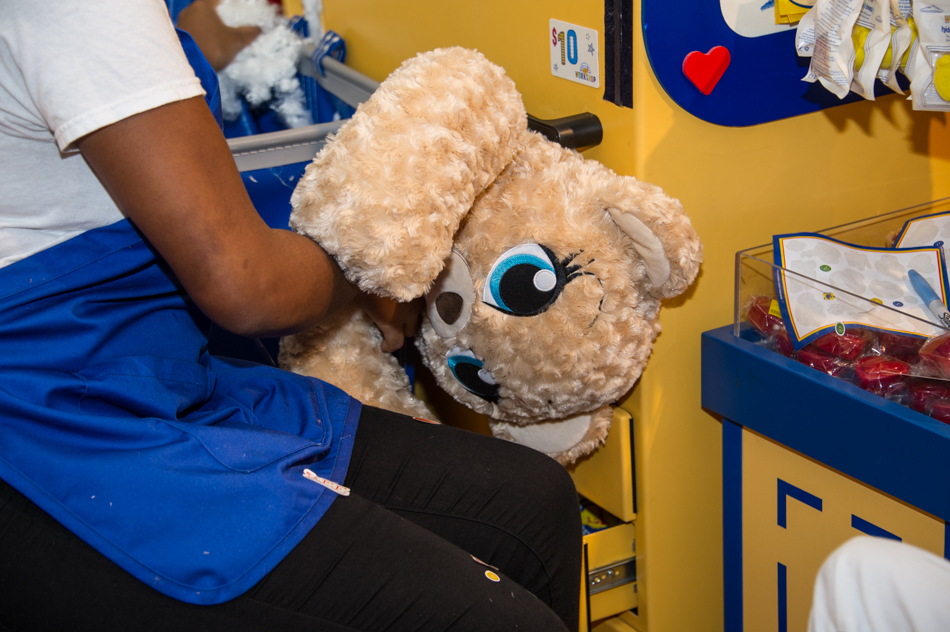 And you get to choose just the exact softness you want. Alyssa got her bear to just the right squishy-ness, declared it "perfect!" and named it Huggable!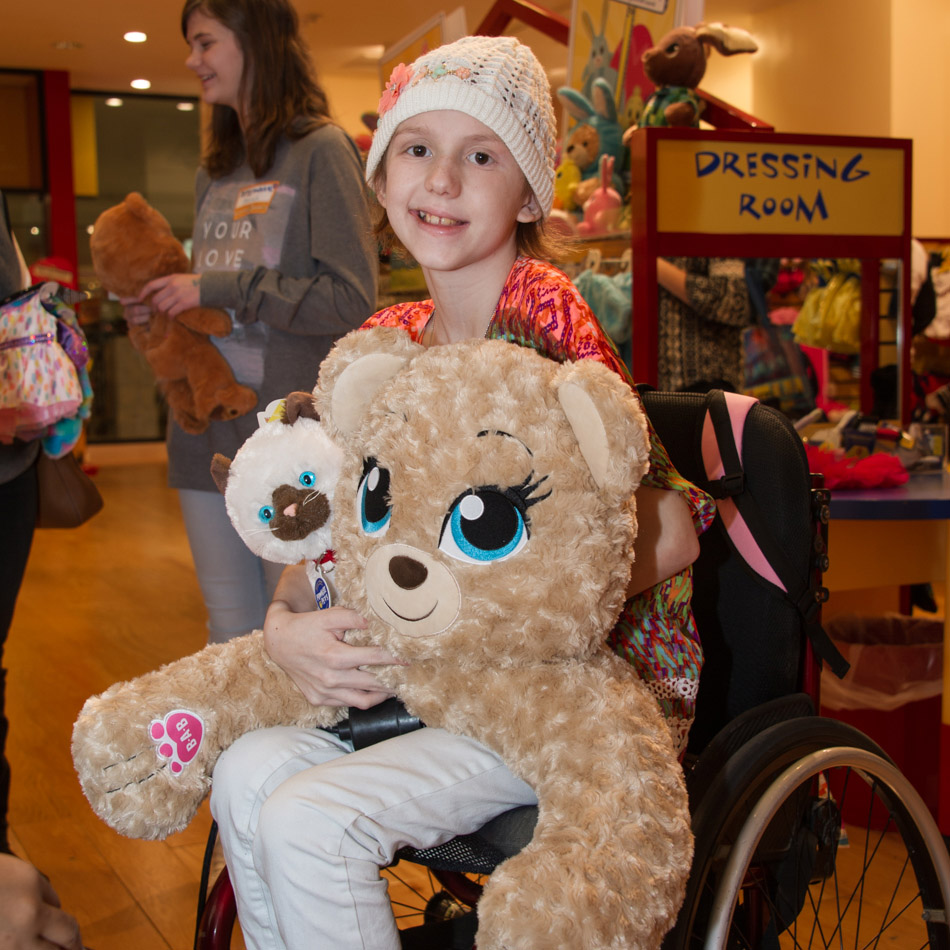 See that white cat peeking out behind Huggable in the picture above? That's what Alyssa made next and named it Frisky. And Frisky needed some clothes!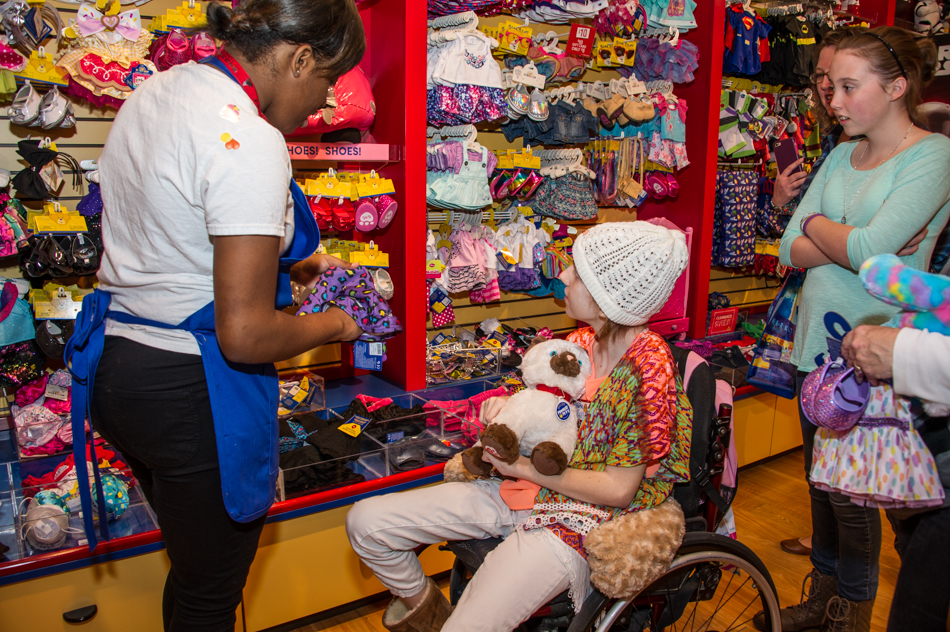 Check out this outfit! Love the shoes! (Purple! Summer's favorite color!)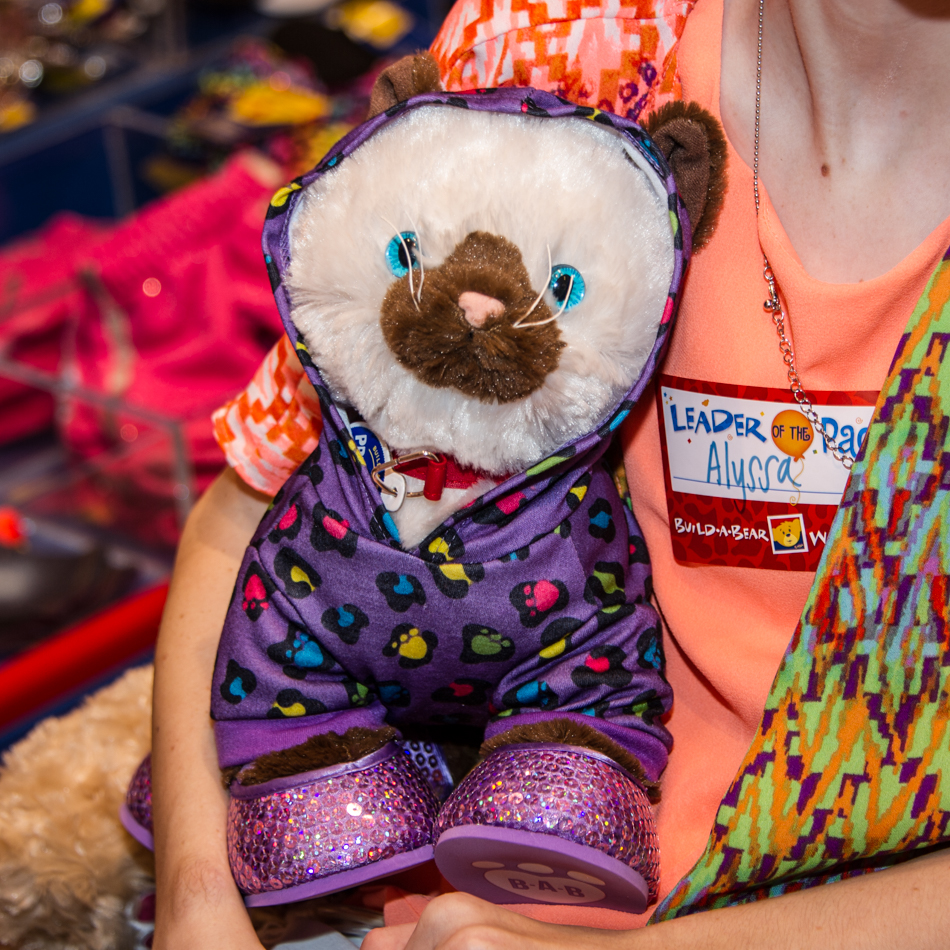 All her animals needed now were birth certificates. Yup, birth certificates!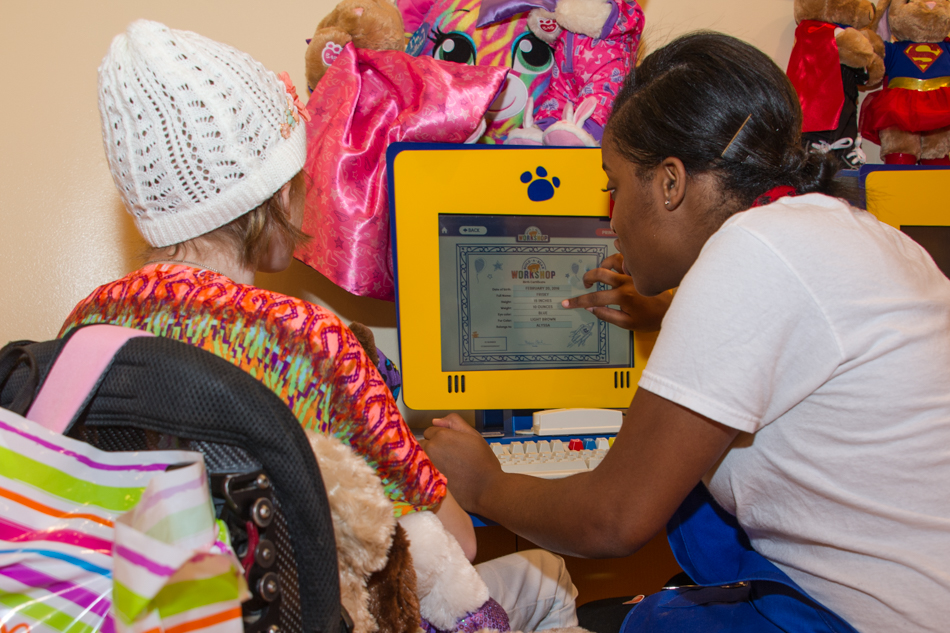 Alyssa's friends got to make bears, too! Well, actually, Ivey chose a rabbit. Hannah chose a bear.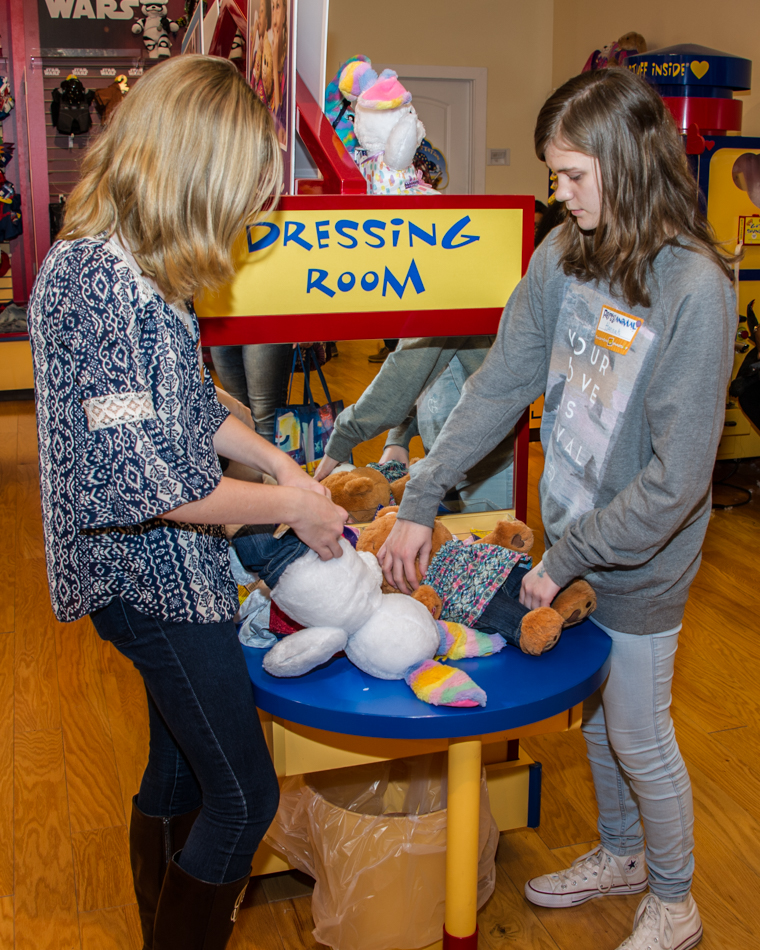 But Alyssa was not finished yet! She had one more stuffed animal in mind. Alyssa had only just become a Team Summer kid and was already thinking like one! Remember what we said earlier about her big heart?  She said she had a friend named Maylee who was also battling cancer, and she wanted to cheer her up. So Alyssa made her a brightly-colored rabbit and named her Joy because she thought the rabbit "would bring Maylee a lot of joy!"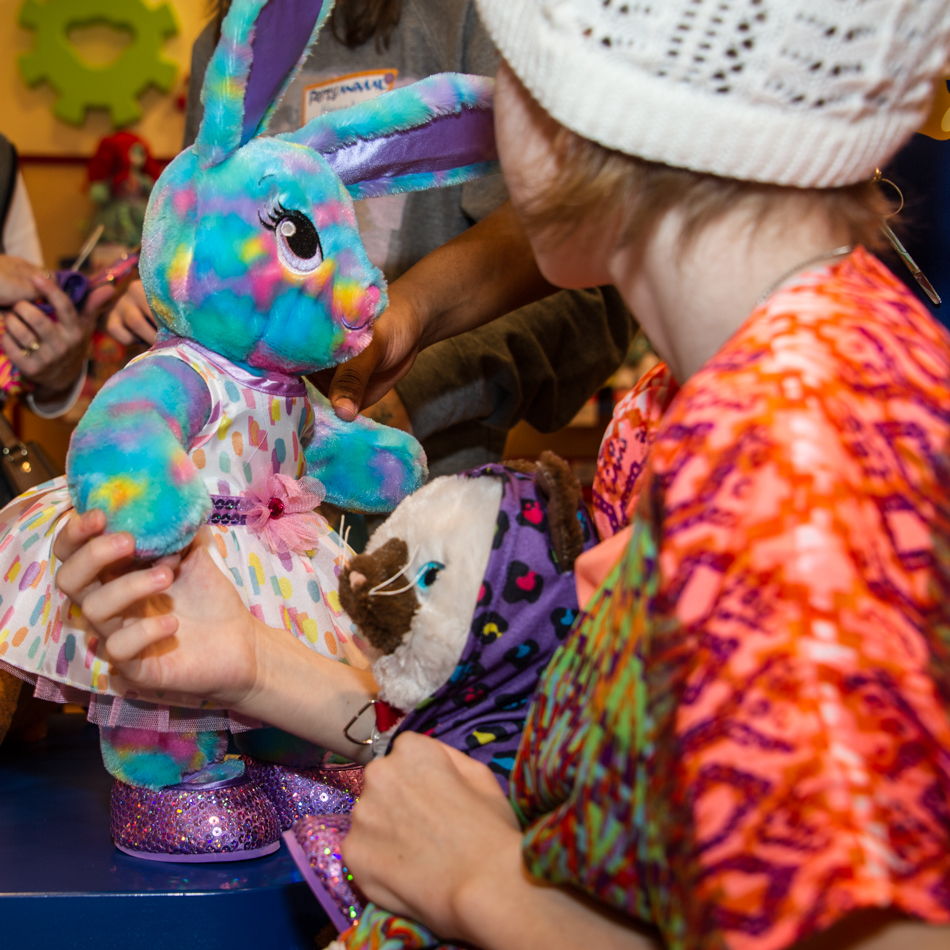 Alyssa would soon be headed back into the hospital for more chemo. But in this moment, she was a typical middle-school girl, hanging out with old friends and her new Team Summer friend, laughing and having fun, lost in a world of her own creations. She said the best part of her day was "getting to spend it with people who care." Good job, Kayla!!
P.S. This just in: Maylee with her gift from Alyssa! I'd say Joy IS bringing a lot of joy!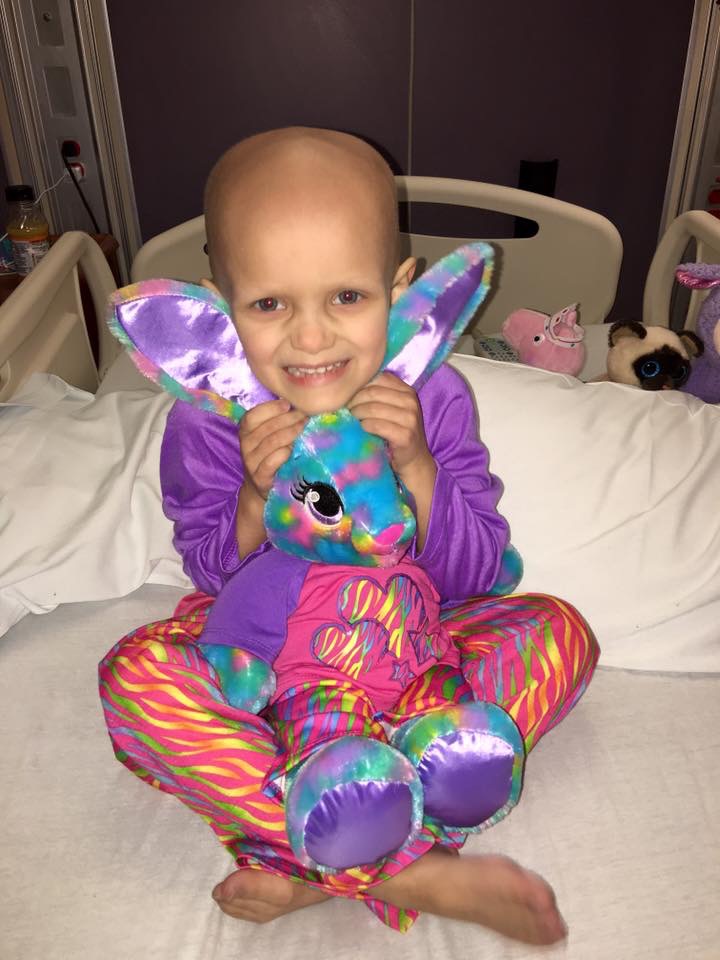 All Team Summer gifts are funded through donations from generous people like you. To donate, click here!